Disclosure / Disclaimer: I received this product, free of charge, from Nielsen-Massey,
for review purposes on this blog. No other compensation, monetary or in kind, has been received or implied for this post. Nor was I told how to post about it
Ah the holidays!
I bet you're all ready to start the cooking, baking and wrapping of those already bought holiday presents, aren't you?
Ok, get off the floor, no more laughing!
This holiday season, Nielsen-Massey Vanillas wants to help you to bring a personal touch back to the holiday season by making some great tasting, or lovely DIY holiday gifts for friends and loved ones! It truly is the
thought

that counts, and what could be more thoughtful than a handmade gift?
Whether looking to let a teacher know how much she is appreciated, brighten the mail-carrier's day, or surprise a coworker, DIY gifts are the perfect way to show how much you care.
I have a way to make all it a little easier and more scrumptious!
Madagascar Bourbon Pure Vanilla Sugar is a flavorful blend of gourmet baker's sugar and the pinnacle of all vanillas, Madagascar Bourbon Pure Vanilla Extract. Use it in any recipe where vanilla and the sweetness of sugar are desired. Vanilla Sugar is ideal for baked goods such as cookies, cakes, pies and pastries where it can enhance the vanilla flavor, sprinkled in beverages, such as coffee, cocoas or smoothies, or as a sweet topping to pancakes, fruit or cookies.
But before I get to how I used the heavenly find to make my holiday gifts special, let's look at some tips
unique packaging tips to give handmade gifts an extra-special touch,
from Nielsen-Massey:
•
Package homemade biscotti, cookies, or even body products in vintage tins or jars. A beautiful container is an additional gift that the recipient can keep long after the handmade gift is gone.
Instead of using traditional wrapping paper or gift bags, wrap boxes in craft paper and decorate with pens and markers. Wrap jars and bottles in fabric, burlap, or a pretty kitchen towel and secure it with colorful striped baker's twine.
• Attach a Christmas ornament to the outside of the package in lieu of a traditional gift tag. Ornaments can be treasured for years to come.
• Include a hand-written note or card with the recipe for your gift – it is the gift that keeps on giving!
All of these are very simple, yet they REALLY add a personal touch!
Now onto my

Christmas Good Start Snacker packag

e

,

that is good for a hostess present, for co-workers, for your child's teacher, or that special someone, who could use a smile in the morning!
First you have to start with your favorite muffin recipe.
I took the Applesauce Cinnamon Muffin recipe from earlier today, and substituted the vanilla with the
Nielsen-Massey Madagascar Bourbon Pure Vanilla Sugar for the muffins themselves. Then when I coated the muffins, I again substituted it in, in place of some of the vanilla and brown sugar.
I then placed the muffins in a small mason jar, and added a pretty chalkboard label to the top.
I then compiled products to go with it: a red pail, a packet of cocoa, a packet of coffee, a packet of breakfast drink and a tea packet (oops-not shown, it fell off the table!), 2 mini candies (score- way to use leftover Halloween candy) that are favorites of the recipient, and then a lovely ornament that inspires!
Step 2- once everything is placed inside the pail (I used silver/red foil straw to raise up the ingredients), I found some hand made looking holiday tissue paper I had (you could also decorate your own) and a wired bow, that is meant to be tied onto a tree or package.
I then wrapped it all up and tied it together:
Now a simple package looks like a million! It says you took the time to care, and the inside snacker package is good for a snack or breakfast at a desk, or on the run. Plus the jar and pail can be reused for a variety of purposes- it's a gift that keeps on giving. If you recipient likes to cook, then I would also include the recipe for the muffins, on a pretty recipe card! They'll appreciate it!
Besides cooking, the
Nielsen-Massey Madagascar Bourbon Pure Vanilla Sugar
is also a great ingredient to use in beauty gifts, like t
his recipe for
Vanilla Body Scrub
from Nielsen-Massey Vanillas! It is a
perfect gift for friends, sisters, daughters, or anyone who deserves a bit of pampering this holiday season, and it is easy to make too! The Vanilla Sugar gently exfoliates, while olive oil moisturizes, leaving skin feeling soft, smooth and rejuvenated.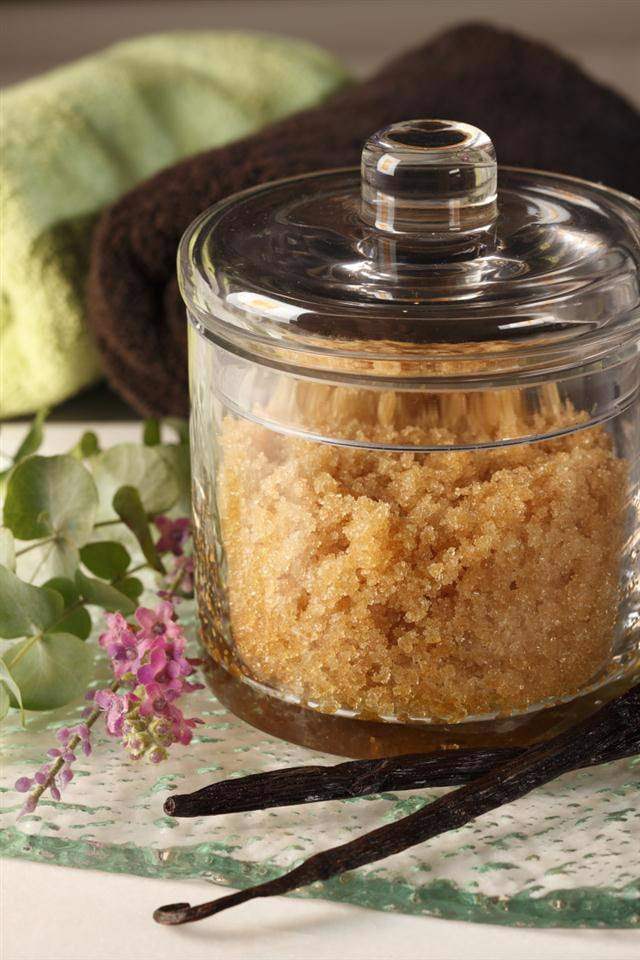 Ingredients
1 cup Nielsen-Massey Madagascar Bourbon Pure Vanilla Sugar
1/4 cup extra virgin olive oil
1 or 2 drops of an essential oil such as lavender, eucalyptus, etc.
Decorative, waterproof container
Directions:
1.Mix ingredients together in a bowl (See? HOW easy was that?).
2. Spoon into a decorative, waterproof container. Include the following on a label, or attached card:
Instructions for use: Apply a small amount to damp skin while in shower or bath. Gently scrub skin with a soft washcloth. Rinse thoroughly.
3. Wrap in decorative paper.
You could make up a bunch of these in smaller bottles and have them on hand for any last minute gifts as well!
Vanilla Bean Marshmallows

Decadent Holiday Fudge

Cinnamon Vanilla Candied Almonds

Gourmet Blueberry Vanilla Granola

Sweet and Spicy BBQ Rub

Chocolate Coffee Biscotti
One lucky BTHM reader will get to win their own bottle of this wonderful
Nielsen-Massey Madagascar Bourbon Pure
Vanilla Sugar,
to sweeten their holiday season