Disclosure / Disclaimer: I received this product, free of charge,from Nielsen-Massey, for review/g purposes on this blog. No other compensation, monetary or in kind, has been received or implied for this post. Nor was I told how to post about it, all opinions are my own.
Thomas Jefferson once said that coffee was "…the favorite beverage of the civilized world"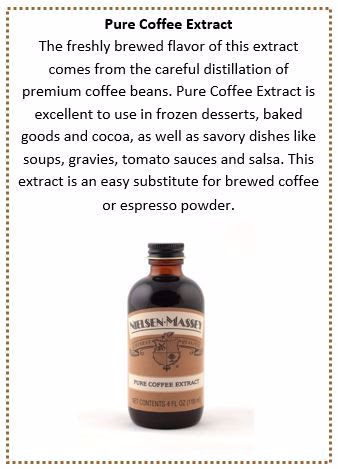 With
Pure Coffee Extract
from
Nielsen-

Massey

Vanillas
, the flavor you love can be incorporated into a variety of breakfast dishes, perfect for light Summer fare, for at home, or on the go (like the beach!). Plus you can add it to your favorite popsicle recipe and enjoy the coffee flavor you love, without all that heat or caffeine!
Check out these recipes, that will make you a believer!
Mocha Coffee: There's no need to be a barista to whip up an amazing Mocha Coffee. The addition of ¼ teaspoon of Pure Coffee Extract and Pure Chocolate Extract rounds out the flavor of this coffeehouse favorite and the recipe is easy to make at home.
Mocha Coffee Popsicle:

Take the Mocha Coffee you made above and then put in popsicle forms and freeze. then when the kids scream for ice cream, you can have yours too! Trsut me, these are SO YUMMY! Course we inhaled them, and I forgot to take a picture, before I realized they were all gone last weekend. headslap! Bad Blogger, LOL. These would be super for the Memorial Day weekend to hand out to all the adults at your party/BBQ!
Moist Coffee Cake Muffins: Great to set out for when guests arrive for brunch, or easy to take on the go, these muffins are packed with flavor. With pecans and toffee bits in the topping and a moist coffee cake base, this recipe will easily become a breakfast staple.
And now for my fav recipe for taking your 'coffee' on the go this Summer, even the kids will like these!
Chocolate Coffee Biscotti:
Pure Coffee Extract enhances the richness of chocolate, adding a deeper flavor to the Chocolate Coffee Biscotti, recipe below. The crunchy cookies are delicious on their own, munching on at the beach, by the pool, or in the car, or even paired with a hot cup of coffee.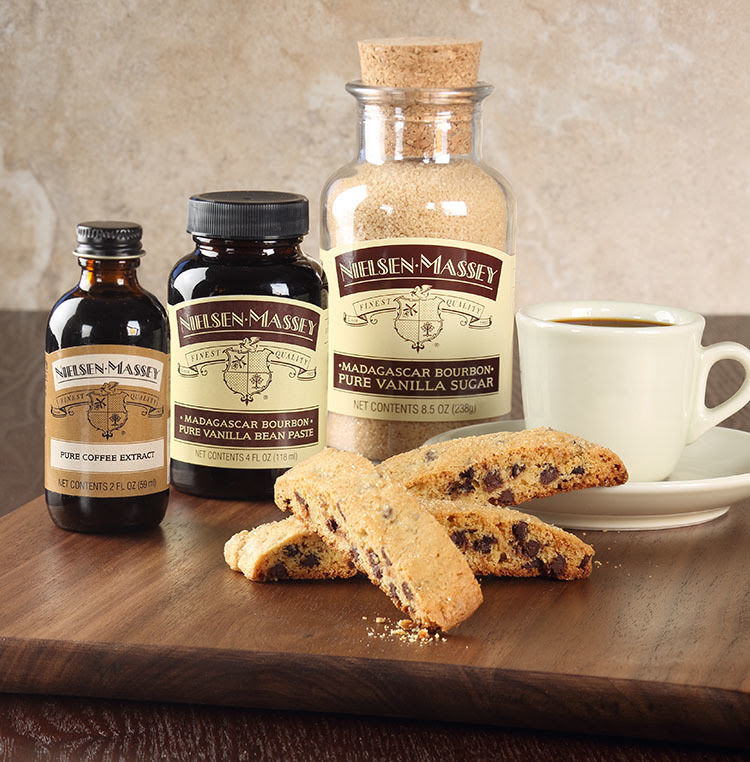 Ingredients:
2 cups unbleached all-purpose flour
1 1/2 teaspoons baking powder
1/2 teaspoon salt
1/2 cup (1 stick) butter, softened
1 cup sugar
2 eggs
1 tablespoon Nielsen-

Massey
Madagascar Bourbon Pure Vanilla Bean Paste
1 teaspoon Nielsen-

Massey

Pure Coffee Extract
1 cup mini semi-sweet chocolate morsels
1 tablespoon Nielsen-

Massey

Madagascar Bourbon Pure Vanilla Sugar (divided)
Directions:
1. Preheat oven to 350 degrees F. Line a large light-colored heavy rimmed baking sheet with parchment paper; set aside.
2. In a medium bowl, add flour, baking powder and salt; whisk to combine and set aside.
3. In a large bowl, add butter and sugar; beat with an electric mixer on medium speed until combined. 4. Add eggs, vanilla and coffee extracts, and beat until creamy, about 2 minutes. Reduce speed to low; add flour mixture and beat until combined. Add chocolate and beat until combined.
5. Dough will be slightly sticky. Divide dough in half. Using a lightly floured surface, roll dough into 2 (12 inches) logs. Transfer logs to prepared sheet pan and press and form each log so the width of each is about 2 1/2 inches across and the height is about 3/4 inch. Sprinkle each log with 1/2 tablespoon of vanilla sugar and gently press into dough.
6. Bake until done, about 25-30 minutes; remove from oven and carefully transfer parchment paper with biscotti to a wire rack and slightly cool. Reduce oven to 325 degrees F.
7. Using a serrated knife, cut logs crosswise, on the diagonal, into 1/2 inch slices. Place on parchment lined sheet pan, cut side down. Bake until crisp, about 16-20 minutes, turning biscotti over halfway through baking time. Cool on wire rack and store biscotti in an airtight container.
Yields 2.5 Dozen
Note: You can use Pure Vanilla Bean Paste in place of Madagascar Bourbon Pure Vanilla Bean Paste to achieve a different, but still delicious, flavor profile. Simply use the same amount of the Pure Vanilla Bean Paste.