Disclosure / Disclaimer: I received the opportunity, free of charge, to sign up for the Dealspotr Influencer Program,
for review purposes on this blog. No other compensation, monetary or in kind, has been received for this post. Nor was I told how to post about the site. All opinions below are my own.
Quick- show of hands- how MANY of you not only hunted for, but USED, online coupon codes for discounts and free shipping over the holidays?
Yup- I knew it- most of you, right?
So when the chance came for me to check out a new site that promises to be not only more reliable, but to offer REWARDS for sharing those great deals, I knew I had to check it out:
Dealspotr is SO easy to use that they now have over 30,000 contributors, who have shared great codes, coupons and freebies, that have saved shoppers over $15 million in less than a year! That's a LOT of savings!
But the best part is that the deals are CURRENT!
No more guessing or trying to see if the code is still active!
Dealspotr contributors check and validate the codes daily, and if the codes/offers are no longer good, they get removed. In fact, a recent study prov

ed that
Dealspotr has

more discount codes, more valid / working codes, and the lowest incidence of invalid codes

on a percentage basis, compared to all leading coupon sites (like Groupon and Retailmenot).

Which means that it is not only easy to find the deal you need, but easy to use it, as you'll know its GOING to work! Which makes you a very happy shopper indeed!
Just look at some of the great codes right now:
Now that 100 piece of Magnetic Tiles is perfect not only for creative play, but for academic learning, like working on fractions for all you homeschoolers! if you're like us, you've got a lot o 'honey do' projects post holiday season too! More shelves for storage, or organization, I bet! So that saw could come in mighty handy!
I LOVE the fact that stores that I shop at are included, like Ulta, best Buy, and Old Navy (check out that deal on the side column!), as well as online sites like Amazon and FragranceX. It gives me more options, AND as the site will check for similar deals, more choices on where to buy the product I'm looking for. Plus you can set up your preferences when you sign up, so the system knows the types of deals you are looking for! I love how it breaks down different topics, like toys into puzzles, games and brands! It helps me avoid what I am normally not interested in, which saves ME time! And as a busy working Mom, that's important!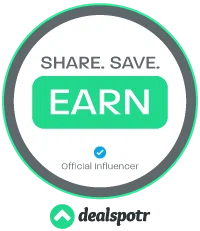 BUT the BIG difference is that not only do I get rewarded by getting a great deal, I get points that literally PAY ME BACK for sharing the codes and freebies! I know you've probably joined other sites before like I have, especially if you're a blogger too. But the reality is once you do, it takes FOREVER to earn enough point to get even a $5 check or store card back. And most of those sites require minimum pay outs as well.
But if you're an influencer with Dealspotr, you get paid a WHOLE lot quicker! And every time you share, or go check out the deals and let Dealspotr know if they're working or not,
you collect more points. And you can earn them EVERY day
! They're validation system keeps the deals current and active- no sifting through expired codes for your friends and blog followers! I did the actions above in less than 10 minutes! After 3 days of working with the site, I had already amassed 30,000 points. That's $30 paid out! WHAT deal site let's you earn that much as a blogger? RIGHT! Just Dealspotr! And the more you share, the more you CAN share, so the more $$ you can earn! Oh and did I mention, you can get paid via Paypal?
AND they sweetened the deal for bloggers and social media mavens even more! Use your special referral code for sign ups AND you can e
arn
20%
of the points generated by all your referrals over the lifetime of their accounts.Now that is just the icing on the cake, right??? And it's super easy to get that code! Just sign up- it takes about 5 minutes to complete the sign up process, and you've got your code. Easy peasy!
Just click below to sign up-
If you sign up through my referral link below, you'll start off with a $5 Amazon gift card.Now that is pretty good for just a few minutes of your time!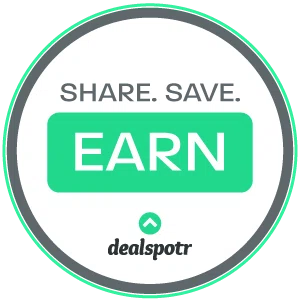 But I think you'll find it is
SO easy to find codes and share them, that you'll wonder why you hadn't heard about the website and program before!
And you'll be so excited to share it too, just like me!
So WHAT are you waiting for?
Head on over and starting earning today!